SOA (Society of Actuaries) Exam Preparation
The Tokyo International Actuary Academy is pleased to partner with ACTEX Learning who offers study materials and professional development opportunities for exam takers and seasoned professionals alike. ACTEX is offering a 15% discount on all of its exam preparation online courses, Validation by Educational Experience (VEE) online courses, and professional development online courses and webinars. The ACTEX Online Courses for SOA Exam Preparation (with the exception of Exam C) are distributed to students who are enrolled full-time at a college/university with a 50% discount. Students who are eligible for this discount will receive pricing with the course fee will be discounted 50%, and then the 15% discount will be applied. This totals as a 57.5% discount off of the course fee. This 50% discount does not apply to the required course materials. Interested students will need to contact ACTEX directly via telephone (+1860-379-5470), or via email (Support@ActexMadRiver.com) to verify enrollment.


List of Courses
Prices for each course, before and after the discount, can be found in this PDF.

Application Process
For those interested in applying, please follow these steps:
1. Please fill in all required information on the following form.
2. A coupon code necessary to receive the discount will be sent immediately via email.
3. On the following ACTEX website, select the items you wish to order. A list of products ordered, and the applied discount, will appear at the bottom of the page.
   ACTEX Homepage

On the upper left side of the page, you will see the "Browse Products" section.  First-time users will need to create a "New Customer" account on the upper right.(Click on images to enlarge)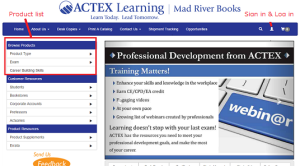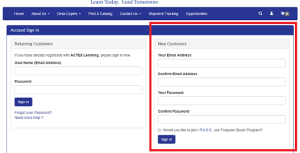 4.  When you are ready to check out, please input the coupon code you received by email in the "Apply Coupon" section, which will appear after you input billing information and click "Continue."